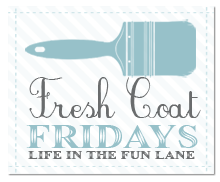 Thanks to Holly at
Life in the Fun Lane
and her Fresh Coat Fridays, I have decided to post my newest transformation. My Dad bought me this sleigh bed for my 16
th
Birthday, almost 10 years ago now!
Even though it has spent many of its years in storage, I have always loved it. Five months ago, I dusted it off and returned it to its rightful place. Even though I love it so much, I have always dreamt of it being a creamy white, french country style sleigh bed.
When my beautiful sister Rebecca at
Painting the Roses White
decided to drive her paint compressor out from Edmonton, I jumped at the chance to make my dreams come true.